Welcome to Bay Area Chess, Online! 
With over 100 Broadcasts per week, we bring quality Online instruction to the Bay Area and Beyond!
No recordings; we are 100% live.  No Webinars; we are 100% Interactive.
Quick Links to Navigate This Page:
2021 Classes |
Drop-In Clubs |
Team Classes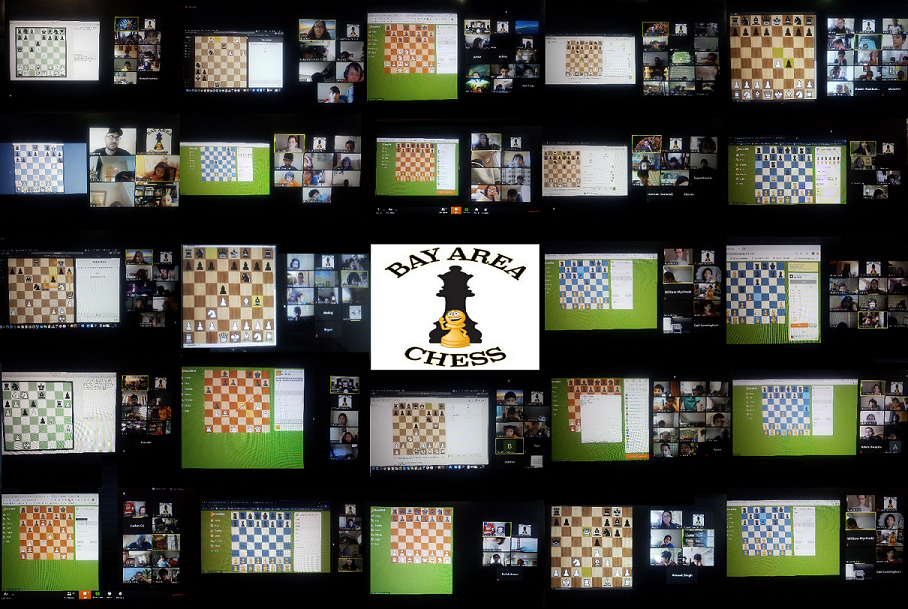 BAC, The largest nonprofit provider of scholastic chess in the West, has transitioned Online to best serve Families seeking dependable and engaging home- enrichment options for all levels of Chess during these uncertain times!  Please explore our massively popular Boot-Camps, Winter/Spring 2021 Terms, Weekend Teams and Drop-in single online sessions!  Whether you're looking for classes 1x, 2x, or 5x per week (or more!), we should have the right program that fits your schedule.
2021 Term Courses
Drop-In Clubs
Team Classes
BAC Skill Levels

BAC 2021 SEMESTER COURSES!
BAC 2021 Courses:  Registration will be by Day / Time / Level.  Coaches will be using Zoom-Breakout to optimize learning groups by skill.  Each term will be one one of three different scheduling tracks, for Levels 1-5 !. Coach ratios will not be higher than 10:1. One make-up session is permitted per course using our Drop-in Clubs (below). 10% Sibling discounts are added in automatically. Students that are brand New to the Game can start here: Level 1 Programs
 

BAC DROP-IN CLUBS!

Single-Session Club Options:
   - Wednesday  6pm - 7pm    (Level 2-3)
   - Saturday 10am - 11am    (Level 3)
   - Saturday 4pm - 5pm      (Level 2)
   - Sunday 5pm - 6pm      (Level 3-4)
Drop-in Clubs have new members weekly so no course will be the same!
Fee: $20 per session
 

BAC ONLINE SATURDAY TEAM CLASSES

Teams require a commitment to the scheduled Saturday dates.
BAC Teams are divided into the 3 groups:
 - BAC A-Team is open for scholastic AND Adult chess players 1500+ USCF rating (level *6, or chesskid 1950+)
 - BAC u1500 Adult-Team is open for Adult (only) chess players u1500 USCF rating
 - BAC Inter Team is open for scholastic players in the 1000-1500 USCF rating range (level 4-5, or chesskid 1400-1950)
 - BAC First Team is open for scholastic players in the 400-1000 USCF rating range (level 3-4, or chesskid 900-1400)
BAC Teams are taught by the titled professional chess players and instructors including IM Faikl Aleskerov, GM Zviad Izoria and GM Steven Zierk.

Fee: 
$130 for 3 Classes/month - 2H Each
$163 for 4 Classes/month - 2H Each
---
What Level is best for you? (More on Skill-Levels and USCF/Chesskid rating estimates)

POLICIES FOR BAC ONLINE PROGRAMS
---