Welcome to Bay Area Chess, Online! 
With over 100 Broadcasts per week, we bring quality Online instruction to the Bay Area and Beyond!
No recordings; we are 100% live.  No Webinars; we are 100% Interactive.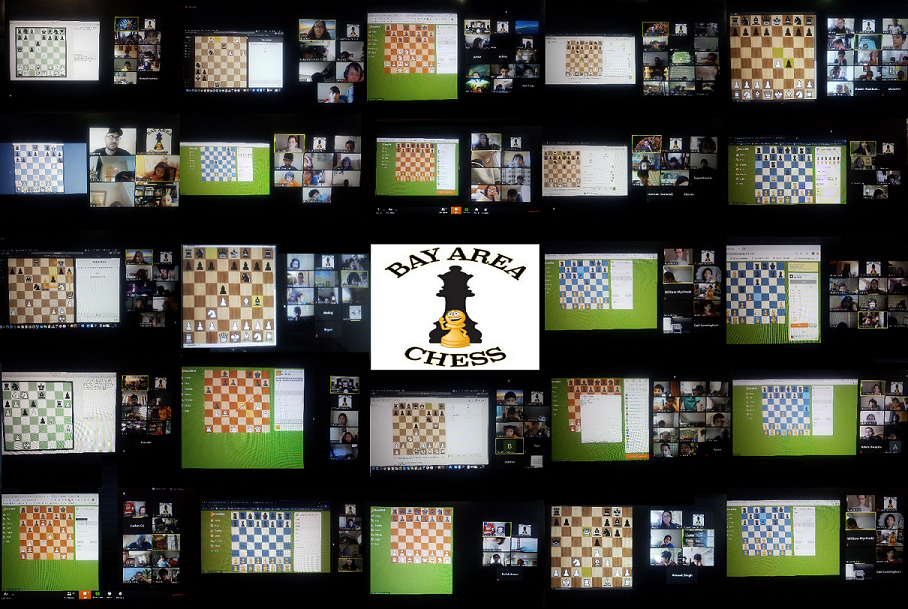 BAC, The largest nonprofit provider of scholastic chess in the West, has transitioned Online to best serve Families seeking dependable and engaging home- enrichment options for all levels of Chess during these uncertain times!  Please explore our massively popular Boot-Camps, Spring Terms, Weekend Teams and Drop-in single online sessions!  Whether you're looking for classes 1x, 2x, or 5x per week (or more!), we should have the right program that fits your schedule. We are also now providing ADULT options as well, so no matter your age or level, BAC has a class for you!
Camps   Drop-In Clubs   Team Classes
* Artwork courtesy of www.ChessKid.com
---
BAC BOOT-CAMPS (April, May, June, July)!

Stack 'em up Bonus: Purchasing Multiple Boot-Camps (weeks OR times) in a single transaction will grant a 10% discount! Which Week/Time is best for YOU? Use the Link above to see all available Courses!
BAC Boot-Camp Class Ratios will not be higher than 9:1
Fee: $89 $73 per week 
 
---
BAC Friday Pools (3-Hour Fridays!)

Pool Block Options:
   - Friday AM Pool: 10am - 1pm, by date (Levels 2-4)
   - Friday PM Pool: 2pm - 5pm, by date (Levels 2-4)
Friday 3-Hour Pools get to enjoy the weekly Chesskid "Boot-Camp Tournaments" and partake in a variety of casual games + analysis live on Zoom. 
Fee: $43 per block (10% off for buying both!)
 
---
BAC DROP-IN CLUBS!

Single-Session Club Options:
   - Wednesday  6pm - 7pm    (Level 2-3)
   - Saturday 10am - 11am    (Level 3)
   - Saturday 4pm - 5pm      (Level 2)
   - Sunday 5pm - 6pm      (Level 3-4)
Drop-in Clubs have new members weekly so no course will be the same!
Fee: $20 per session
 
---
BAC ONLINE SATURDAY TEAM CLASSES

Teams require a commitment to the scheduled Saturday dates.
BAC Teams are divided into the 4 groups:
 - BAC ADULT U1500 TEAM CLASS is open to adult (only!) chess players rated UNDER 1500 USCF
 - BAC A-Team is open for scholastic AND Adult chess players 1500+ USCF rating.
 - BAC Inter Team is open for scholastic players in the 1000-1500 USCF rating range (level 4-5)
 - BAC First Team is open for scholastic players in the 400-1000 USCF rating range (level 3-4)
BAC Teams are taught by the titled professional chess players and instructors including IM Kostya Kavutskiy, IM Faikl Aleskerov, GM Zviad Izoria

Fee: 
$130 for 3 Classes/month - 2H Each
$163 for 4 Classes/month - 2H Each
---
What Level is best for you? (More on Skill-Levels)
   LEVEL
     1-  Absolute Beginners: Mighty Pawns: For BRAND NEW players only; still learning the pieces and unable to checkmate. (5 sessions)
     2-  Beginner: Knows the rules and maybe had casual lessons, but has played under 100 games and/or is under 400 rating (USCF).
     3-  Intermediate: ~400-900 Rating, has had between 2-5 semesters of Chess, some tournament experience and is ready for harder concepts.
     4-  Advanced I: Tournament Level, with years of instruction. For rating 800 - 1250. 
     5-  Advanced II: 1200-1500 rating, GM lecture style. Higher Rated players should look into the Weekend A-Team. (adults welcome there, too)
7/13 - 7/17
  Level 3 Intermediate Boot Camp @ 9am - 9:45am
  Level 2 Beginner Boot Camp @ 10am - 10:45am
  Level 1 Mighty Pawns Beginner Boot Camp @ 11am - 11:45am
  Level 4 Advanced I Boot Camp @ 11am - 11:45am
  Level 3 Intermediate Boot Camp @ 1pm - 1:45pm
  Level 3 Intermediate Boot Camp @ 2pm - 2:45pm
  Level 4 Advanced I Boot Camp @ 3pm - 3:45pm 
  Level 2 Beginner Boot Camp @ 3pm - 3:45pm
  Level 2 Beginner Boot Camp @ 4pm - 4:45pm
  Level 3 Intermediate Boot Camp @ 5pm - 5:45pm
Friday 7/17:
  Level 2-4 7/10 Friday AM Chess Pool, 10am - 1pm
  Level 2-4 7/10 Friday PM Chess Pool, 2pm - 5pm
POLICIES FOR BAC ONLINE PROGRAMS
---