Bay Area ONLINE Chess Teams on Saturdays!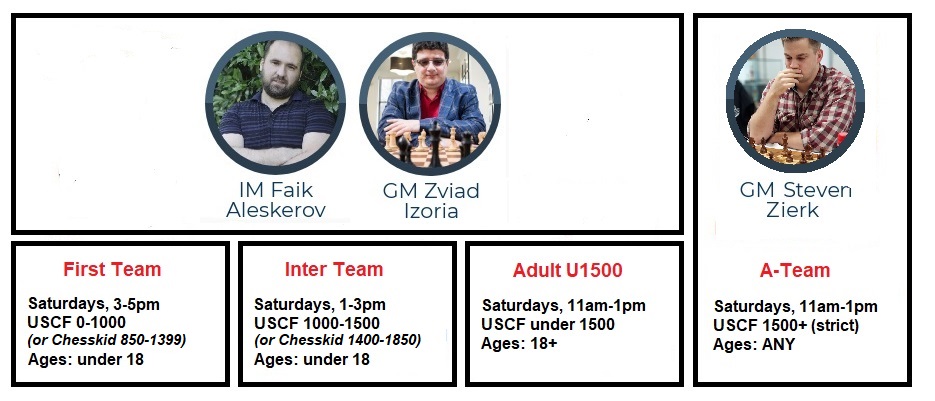 BAC Team Categories and Classifications
BayAreaChess offers 4 different categories of Teams, and players and students are welcome to inquire about these based on their USCF rating and tournament experience. Please note that students that have never attended a tournament, or are under 1000 USCF Rating, can ONLY be considered for the FIRST Team
*Note that Chesskid is not used or required for BAC Teams, we have posted the CK suggested Rating Range only as a convenience

BAC FIRST Team for players who are between 0-1000 USCF rating (or 850-1399 Chesskid)
Meets: Saturdays  3-5 PM PT ONLINE
Coming from Chesskid? This is a Level 2.5 - 4 Class.
Head Coaches: IM Faik Aleskerov & GM Zviad Izoria
REGISTER

BAC INTERMEDIATE Team: for players in the 1000-1500 USCF rating range (or 1400-1850 Chesskid)
Meets: Saturdays 1-3 PM PT ONLINE
Coming From Chesskid? This is a Level 4.5 - 5 Class. 
"Intermediate" is not the same as "Intermediate" on Chesskid, which is Level 3)
Head Coaches: IM Faik Aleskerov & GM Zviad Izoria
REGISTER
 
BAC ADULT U1500 ONLY CHESS Team 
Open for players Ages 18+ U1500 USCF rated
 ALL players, who are familiar with the chess moves and a checkmate are welcomed!
Meets: Saturdays 11AM-1PM PT ONLINE
Head Coaches: IM Faik Aleskerov & GM Zviad Izoria
REGISTER


BAC A-TEAM  - Chess Team for players of ALL AGES 1500+ USCF rating (or 1850+ chesskid)
Meets: Saturdays  11AM - 1PM PT ONLINE
Head Coach: GM Steven Zierk
REGISTER
Please READ the message from A-Team Head Coach:
The A-Team is for serious tournament players of any age 1500+ (strict) that are looking to improve their game. The group classes focus on universal chess skills, such as calculation, decision making, and positional judgment. Students are expected to work on chess regularly while attending classes, in the form of solving tactics, reading books, or playing online. Students are also expected to remain active tournament players while being members of the A-team.

 
Schedule

             2021 SCHEDULE of ONLINE TEAM MEETINGS
 
 

 

  MONTH 

 

 

      

                       # of
                  CLASSES

 

 
 
'21 JAN
1/9, 1/16, 1/23, 1/30
 
4 ($163)
 
 

 

 
'21 FEB
2/6, 2/13, 2/20, 2/27
 
4 ($163)
 

 

 
 
'21 MAR

3/6, 3/13, 3/20, 3/27

 
4 ($163)
 
 

 

 
'21 APR

4/3, 4/10, 4/17, 4/24

 
4 ($163)
 

 

 

 

 
'21 MAY

5/1, 5/8, 5/15, 5/22

 
4 ($163)
 

 

 

 

 
'21 JUNE
6/5, 6/12, 6/19, 6/26
 
4 ($163)
 

 

 

 

 
'21 JULY
7/10, 7/17, 7/24 7/31
 
4 ($163)
 

 

 

 

 

'21 AUG

 

8/7, 8/14, 8/21 8/ 28
 
4 ($163)
 

 

 

 

 

'21 SEPT

TBD
 

 

 TBD

 

 
 

 

 

 

 
'21 OCT
TBD
 

 

TBD
 

 

 

 

 
'21 NOV
TBD
 
TBD

 

 
 
 
Team Fees, Policies & FAQ
Please find below a summary of BAC Team Fees and Policies. To see full Information please refer to BAC TEAM FEES AND POLICIES
 
Welcome to BAC Teams! Please read and acknowledge BAC Teams Policies and Fees:
BAC Team Classes are held monthly throughout the school year, September through June, and include 3 classes. Team classes may be offered through Summer (July and August).

Flat Monthly  Fee:
First, Intermediate, A-Team and Adult U1500  - $135 x 3 Team meets/month; $163 x 4 Team meets/month

Team Fee includes:
- 2 hours of training with the team and Titled Team Coach(es) on scheduled weekends
- email communication follow-ups during the week by request with Team Coaches regarding problems & solutions, personalized questions.

 The BAC Team classes fee is a flat fee, which covers 3 or 4 classes a month and is payable monthly.

BAC A-TEAM by invitation only,
Please email  enrich@bayareachess.com to apply.

ONLINE REGISTRATION:
  Registration is through the BAC Enrichment webpage: enrichment.bayareachess.com
Online Registration Team classes will open on Sundays after the last class each month.
 
BAC TEAM Class Rosters
are completed by the first class of the month and used for a check-in for each student. If the student is NOT on the roster, such student will not be allowed to the class. Please contact enrich@bayareachess.com with any question regarding registration.

Cancellation, Class Make-Ups and Pro-Rate Policy:
Cancellations are not allowed. Whether your child chooses to attend just selected or all classes per month, the price is the same.
There are NO Trial Classes.
There are NO make ups for missed classes.
There are NO prorates. There are NO monetary refunds for the cancellations: full credit may be offered to be applied to the following month (if cancelled prior to the first Team Class of the paid month).
Sick Team Member Policy: if the Team Member has been sick throughout more than one Team class, we will request an official doctor's note, and will consider to credit the monthly fee amount towards the next month. There are no prorates for one missed Team class due to sickness.

Important Notes:
Remember to please register early for the Team classes, as many of our weekend events fill up.

FAQ
Q: What's the difference between the Weekend Clubs and the BAC Teams?
A: The clubs are more casual, fun atmosphere and attendance can be on an ad-hoc basis by purchasing a drop-in fee. Teams need commitments and consistent attendance, and will be focused on improvement in all areas of chess, lecture, assigned homework, and of curse, we will have fun! Please send us an email to enrich@bayareachess.com with any question anytime!

Q: Can we try out the class? Do you offer a first try-out class?
A: No, we do not offer try-out classes. You can register yourself/your child for 1 month, and if you/your child decide(s) to not continue, you simply do not register yourself/your child for the next month.

Q: What is expected from the Team members?
A: Consistent attendance and team commitment. Also recommended to spend several hours a week on chess at home.


Q: Is there a maximum number of team members for each team?
A: Yes. All teams are open by Space allowed. We provide a second coach if the number of Team members in the Team is larger than 12.

Q: Your Question here? Please email enrich@bayareachess.com