Bay Area Chess Teams on Saturdays!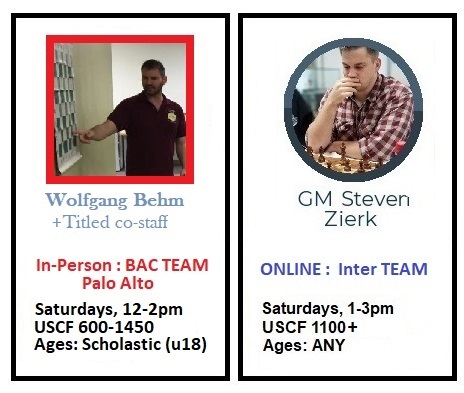 BAC Team Categories and Classifications
BayAreaChess offers 2-3 different categories of Teams (depending on the season). Players and students are welcome to inquire about these based on their USCF rating and tournament experience. Please note that the Online Teams have a REQUIRED minimum USCF rating, while the In-Person Team can substitute online ratings, like LiChess or Chesskid, though must be over 1200 as a minimum. 
 
---
THE BAC TEAM
Location: UU CHURCH IN PALO ALTO
Meets on 5 SCHEDULED Saturdays 12-2 PM PT
Classes are every-other-Saturday
2022 Meeting Dates: 10/8, 10/22, 11/5, 11/19, 12/3
Team Perk: 
50% off of Palo Alto Rated Quad Tournaments with Team Promo Code
(hosted on Team meeting days at 9am @ same location)!
Head Coach: Wolfgang Behm + rotating Titled Guest Instructor 
Learn More / REGISTER
---

BAC ONLINE TEAM- MONTHLY
For Kids OR Adults 1100+ USCF Rating
(or 1500+ Online Rating)
Meets: Saturdays  1-3 PM PT ONLINE
Online Teams are 'monthly' (3-4 sessions which reset each month)
Head Coach: GM Steven Zierk
Learn More / REGISTER
---
Schedule

SCHEDULE OF TEAM MEETINGS
MONTH 

                             

ONLINE TEAMS

 

 

      

                       # of
                  CLASSES

 

FEE

October -December 2022
n/a
10/8, 10/22, 11/5, 11/19 and 12/3
 
5
$287
 

 

November 2022

11/5, 11/12 and 11/19

registration closed

 
 
3
$153

 

 
 
 
 
 
 
 
 

 

December 2022
12/3, 12/10 and 12/17

registration is open

 
 
 
$153

 

 

 

January 2022
TBD
 
 
 
 

 

 

 

February 2022
TBD
 
 
 
 

 

 
 
 
 
 
 
 

 

 

 

 
 
 
 
 
 

 

 

 

 
 
 
 
 
 
 

 

 

 

 
 
 
 
 
 

 

 

 

 
 
 
 
 

 

 
 
 
Team Fees, Policies & FAQ
Welcome to BAC Teams! Please read and acknowledge BAC Teams Policies:
Online BAC Team Classes are held on scheduled months, Saturdays, throughout the year and include 3-4 classes per month.
In-Person Teams come with an established range of dates and are hosted every other week.


Team Fee includes:
- 2 hours of the committed training with the team and Titled Team Coach(es) on scheduled Saturdays each month
- In-Person Teams come with a Promo Code for 50% off of BAC Quads in Palo Alto (or the location of the Team)

 The BAC Team classes fee is a flat fee, which covers 3 or 4 classes a month and is payable monthly.


ONLINE REGISTRATION:
  Registration is through the BAC Enrichment webpage: https://enrichment.bayareachess.com/BACTEAMS
IN-PERSON & ONLINE CHESS TEAMS POLICIES
NO PRORATES

for the Team classes to be missed or missed Team classes.


 

NO REFUNDS.


 

CANCELLATIONS:

We do not provide any refunds if you want to cancel your enrollment. No exceptions. Credit may be applicable to the BAC Chess Clubs. To inquire, please email the BAC Enrichment Team to

enrich@bayareachess.com


 

MAKE UP

for the missed In-Person and /or Online Chess Team Class:

A make-up can be scheduled at the BAC Chess Club (either in-person or online). The make ups must be completed within the same month as the Team class was missed.
For ONLINE Chess Teams:

a student may be eligible for 1 make up class at BAC Online Chess Club. To request a make-up please send an email to the BAC Enrichment Team for the details to

enrich@bayareachess.com


 

For IN-PERSON BAC TEAM:

A Student can make up for the missed In-Person Team Class at the BAC In-Person Chess Club on the off-week from the BAC TEAM Class. To request a make-up please send an email to the BAC Enrichment Team for the details to

enrich@bayareachess.com
Important Notes:


Remember to please register early for the Team classes, as many of our weekend events fill up. Enrollment is also necessary for us to determine staffing requirements for Teams, which is vital for optimal learning groups. 



FAQ
Q: What's the difference between the Weekend Clubs and the BAC Teams?
A: The clubs are more casual, fun atmosphere and attendance can be on an ad-hoc basis by purchasing a drop-in fee. Teams need commitments and consistent attendance, focusing on tournament play/analysis.  Please send us an email to enrich@bayareachess.com with any question anytime!

Q: Can we try out the class? Do you offer a first try-out class?
A: No, we do not offer try-out classes. You can register yourself/your child for 1 month, and if you/your child decide(s) to not continue, you simply do not register yourself/your child for the next month. You may be assessed for in-person teams at the weekend clubs.

Q: What is expected from the Team members?
A: Consistent attendance and team commitment. Also recommended to spend several hours a week on chess at home.


Q: Is there a maximum number of team members for each team?
A: Yes. All teams are open by Space allowed. We provide a second coach if the number of Team members in the Team is larger than 12.

Q: Your Question here? Please email enrich@bayareachess.com