Title
Senior Coach, BAC Online Chess Teams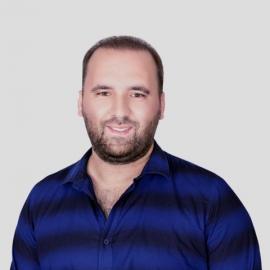 Who is Faik Aleskerov? I'm an International Master (elect), a sports fanatic, an MBA graduate, and a chess coach at BayAreaChess for the last 3 years.
I was born and raised in Baku, the capital city of Azerbaijan. Baku means "windy city" and, indeed, there is always a nice breeze blowing in from the Caspian Sea, though the weather is less like America's Windy City, Chicago, and more like New York City.
I learned how to play chess at age 5 while watching my dad and grandpa play. I was a very energetic kid, and was always suggesting moves to them, so they started sending me to an after-school chess program. After I won my first tournament, I was hooked. I began to study seriously, averaging 20 hours of chess per week. I especially loved to study puzzles, tactics and combinations.
Success came with my hard work. I won the Azerbaijani Youth Championship three times, ahead of current 2700+ rated GMs Teimour Radjabov and Shakhriyar Mamedyarov. I also competed at international youth tournaments, including the World Youth Olympiad, where I was part of the Bronze-medal winning Azerbaijan team and also individual Bronze medal winner at the World Youth Championships, while also earning my undergraduate degree from the University of Languages in Azerbaijan.
I have won or placed highly in many tournaments, including the Master section of the 2012 California Super Class Championship, fulfilling the requirements for the International Master title. My rating has been as high as 2500 (USCF) after scoring 5.5 out of 6 at the Pan-American Intercollegiate Chess Championships in 2012 and helping lead Texas Tech University to the national championship that year. I also helped Texas Tech, where I earned my MBA in International Business, win the Pan-Am title in 2011.
For openings, I like to play 1. e4 as white to create more open games. For black, I'll play Caro-Kann or the Scandinavian Defense. Even when I was playing youth tournaments in Azerbaijan, I was known for my wild and sharp style. There was one year when I played 56 games...and I only drew one! In an era when computers can learn to become the best in the world at chess in hours, I think it's more important than ever to create beautiful games and fireworks on the board.
There's not a sacrifice on the board that I won't at least consider. One of my favorite games is from the 2014 Pan-American Games. I was playing first board for Texas Tech against the Ukrainian-Canadian GM, Anton Kovalyov. I sacrificed multiple pieces, including a Rook, to defeat Kovalyov in 33 moves.
Outside of chess, my favorite sport is probably tennis, which I play 2-3 times a week. Both games are one-on-one battles that require a strategic mind and multiple skills. My favorite player is Roger Federer because he plays tennis like a chess master: he knows all of the combinations of shots on the court, and is always thinking and trying to read what his opponent will do. If he were a chess player, he'd be like a Vladimir Kramnik - classic and pragmatic. I also love Rafael Nadal, who is so charismatic and passionate. He reminds me of my San Jose Hackers teammate, GM Shakhriyar Mamedyarov - they always put everything into every game.
I also love soccer, and played center-forward for my school and university. My favorite team is Arsenal, especially back in the 1990s, when they were so good at passing and other beautiful aspects of football.
For BayAreaChess, I teach lunch and after-school classes in the South Bay, as well as run the BAC Intermediate Team on Saturdays, and also coach some individual players. With all of my students, I love inspiring them to focus on tactics and combinations. If your pieces are coordinated properly, sometimes the Queen doesn't even matter. I also strongly believe in the importance of the psychology of chess, how to minimize your mistakes and drive a winning position home by keeping up the pressure. Every move needs to create a threat against your opponent.
Finally, I tell all of my students that hard work will always pay off in strong results, so they should always try to study between 2 hours of chess per week to 2 hours per day if they can. Some of my players, such as Pranav Sairam, Chelsea Zhou, and Adrian Kondakov, have made huge improvements while I've worked with them.
Besides the quality of players at BAC, I also love the innovative vision supported by BayAreaChess, and also the strong quality of instructors we have on staff.