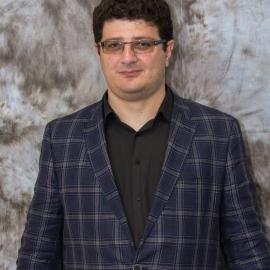 GM Zviad Izoria, now a San Jose resident, is happy to share his love and knowledge of the game with the young players.

Zviad, originally from the Republic of Georgia, started playing chess at the age of 8. He was fascinated by the game and dedicated hours each day to studying independently. His first book, the collection of Bobby Fischer's games, came without analysis. Thorough study of those games and implementation of some of those ideas turned Zviad into one of the leading youth players in the world at the time.
He won multiple World and European Youth Championships and became a Grand Master at the age of 18. One of the biggest accomplishments in Zviad's career was the win of HB Global Chess Challenge in 2005.
Since then, Zviad has moved to the United States – first to NYC, and now to Bay Area.

We are honored to have GM Zviad coach our students and beyond best chess moves, instill in them the skills and value of hard work.

We were also pleased to announce that Zviad has accepted the invitation to participate in the US Championship in St. Louis in April, 2018 and participated there with the great success defeating TOP World 10 GMs Fabiano Caruana and Hikaru Nakamura.
BAC is proud that GM Zviad Izoria in an Elite Member of BAC's  Coaches Team