2023 @ Bay Area Chess!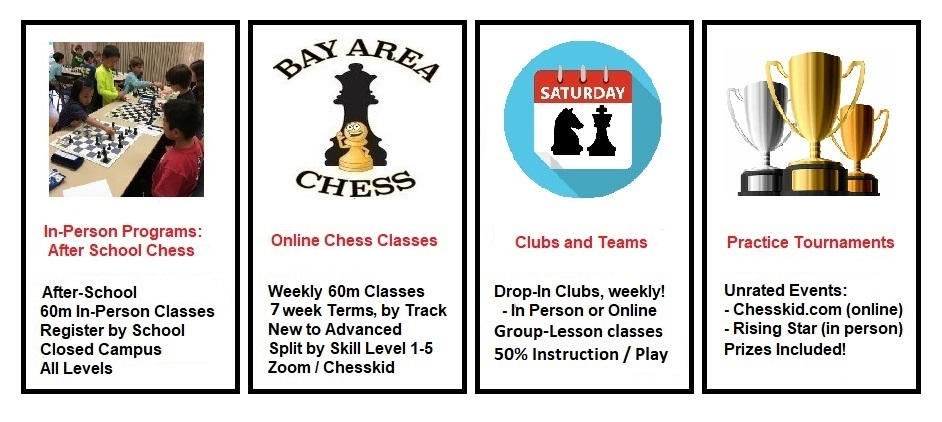 In-Person After-School   ||  Online Term Schedules  ||  Drop-In Clubs  ||  Monthly Teams  ||  Practice Tourns


Warm Welcome to Bay Area Chess, 2023 
This year, BAC will be hosting both in-person and Online options!
Our Mission: To introduce children of all ages to everything that Chess has to offer, socially and academically,
in the Bay Area and Beyond!
New Players: Absolute Beginners are welcome at all In-Person Courses or should join "Level-1" Online Classes.
Online Levels: What are the 5 BAC Skill-Levels for Online Chess?


Online Track Classes for 2023!

 - BAC Online Courses are 60 minute classes, hosted 1x per week at a designated time/day/level.  If you would like to have chess more than once per week, you may purchase multiple courses to accommodate your needs (purchasing more than one course in the same transaction triggers an automated 10% discount). 
 - Terms are 7-weeks throughout the year, though they are 6-weeks during Summer (Tracks S1 and S2). 
- Every Online Term Course comes with a Gold Membership to Chesskid.com (we create and distribute). Students that already have an account with BAC will use their Chesskid membership for all online courses going forward.

 - NEW PLAYERS (absolute beginners) are encouraged to join a Level 1-1.5 course. This course is also best suited for ages 5-9, so older 'new' players are encouraged to join us for a level 2 course and we will provide a homework curriculum to secure basic proficiency so they can keep up.
Note: we also have In-Person or Online Clubs (Classes held weekly, though purchased as single, drop-in classes)
 

UPCOMING:  2023 Summer TRACK-A4,  (Dates 9/11 - 10/27)
Fall Tracks are 7 weeks.  Pacific Standard Times
Click on a Time slot to Register
Track S2:   Level
MON
 9/11- 10/23 
TUE
 9/12- 10/24 
WED
 9/13 - 10/25 
THUR
 9/14 - 10/26 
FRI
 9/15 - 10/27
1 - 1.5 (NEW PLAYERS
+ Low Beginner)
Chesskid under 850
    5:15PM
     
 
 
 
Level 2-3 (Beg / Inter)
Chesskid 850-1299
 
 
 
 
5:15PM
   Level 2-5
  See Below

Level 3-4 (Inter + Adv)
Chesskid 1050-1500

 
 
5:15PM
    
    5:15PM
   Level 2-5
Level 4-5 (Advanced)
Chesskid 1350-1800
   
5:15PM
 
 

Level 2-5 
See Above

 

BAC / Chesskid.com RATING LEADERBOARD (out of over 4200 students), on January 1st, 2023: