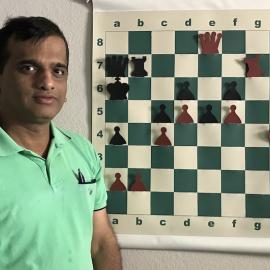 "We have two ears and one mouth so we can listen twice as much as we speak."
— Epictetus (Greek Philosopher AD 55 – c.135)
Venkat strives to improve chess by teaching observation techniques. At the age of five, he learned the basics by observing his parents playing chess with each other.  He learned thinking tactics from his mother and mastered winning strategies from his father.  He achieved 2nd place in his first State level tournament [In Rapid Chess Format] at the age of 18. Venkat was the University Chess Champion and led University team in the All India Inter University Championship.
            After his graduation, Venkat joined Indian Air Force (IAF). In IAF he continued his passion for chess and won the Western Air Command Chess Championship. He received a commendation award from the Air Chief Marshal during his outstanding service in the Air Force. After completing service, he joined Oracle Corporation and currently working as Engineering Director in Redwood City, California.  He has won many corporate level championships, both at the team and individual levels. His other passions include solving brain teasers, and creative writing.
Venkat is a good listener and a keen observer, and is a popular chess and Math Olympiad coach among school children. He has a unique way of coaching kids customized on their individual learning capability, while incorporating an element of fun.
Venkat joined BAC in September 2019