BAC: In-Person Elite San Jose Drop-in Chess Club with GM Atanas Kolev!
BAY AREA CHESS is proud to present the ELITE CHESS CLUB, every Saturday @ BAC Office in San Jose. 12PM-2PM.  This is a DROP-IN Club, so you do not have to register in advance and can join us any weekend you wish for single-session or bundle payment at the door.  Learn More below!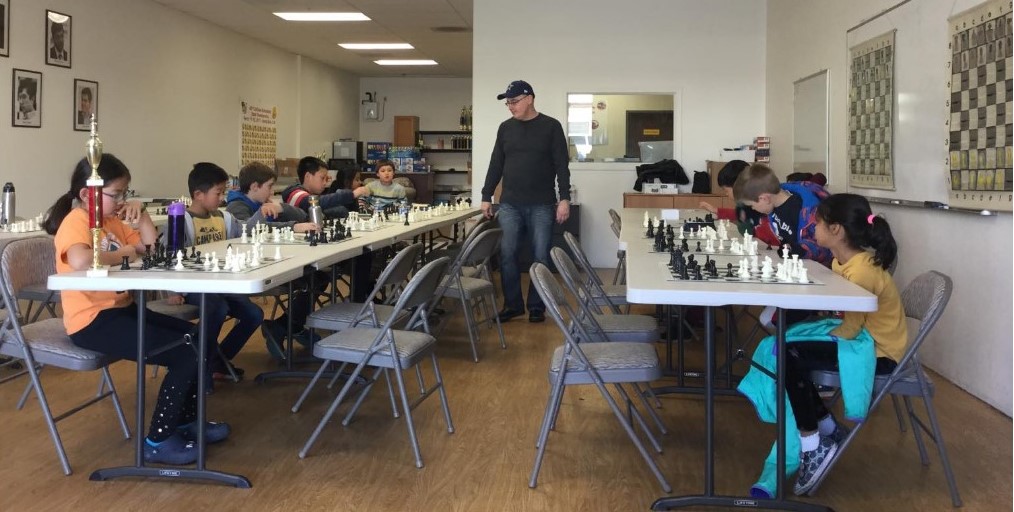 A note from GM Atanas and Coach Nataliya:
To become Master, FIDE Master, International Master and even Grandmaster – it is a way we
know, we can show it, because we have already passed it. We are proud to have a Team of high-level Grandmasters and coaches with extraordinary ability and long experience in chess training.
As a result of our professional and dedicated work, all our students have significantly increased
their personal ElО rating. The results of our students are impressive: National Champions, A
World School Chess Champion, International FIDE Titles
Training with Grandmasters in a professional way to achieve your full potential.

Along with professional training, we offer a lot of entertainment - fun and curious puzzles,
interesting stories and events from the chess world, the latest news from chess
tournaments, opportunities to play against a grandmaster in simuls, blitz, special events
and so on.

Everyone ages 6-17 is WELCOME!
From Zero to Master.

"Gens Una Sumus"
(We are One Family)
Location:
2050 Concourse dr #42
San Jose / South Milpitas, CA 95131 ( Map )
While this Club caters more specifically to intermediate and Advanced players, ALL Levels are welcome and will benefit from the Material!
At-the-Door Payment: $50 per session (no advance registration necessary!)
  By registering online, you are confirming/reserving a seat for the NEXT available Saturday Elite Club session. You may register here or make a Cash/Check payment at the door (on-location, preferred, and cheaper).
10 Sessions for the Price of 8!
   You may purchase a 2023 Club bundle, which will be tracked in the on-location binder. Purchasing 10 San Jose Club sessions in advance for the price of 8.  Bundled classes have a full year to use (expires in 12 months) and DO NOT have to be used on consecutive weekends. Whenever you come in, skip the payment process and just sign in your punch-card style binder!  Bundle options are not available for Online purchase at this time. Bonus: When your bundle is up, the student receives a special award - which increases in value each bundle that is completed!
 
We welcome you to join us for our in-person Clubs. 
  - Currently available in Fremont, Palo Alto, Cupertino, or here at our San Jose BAC Office in two time-slots.  See them all.
  - Masks will not be required, though recommended. Please do not attend the club if the child is sick or showing symptoms.
  - There will not be a parent-room available, it will be by drop-off / pick-up. You may sign-in at the door and students will enter alone.