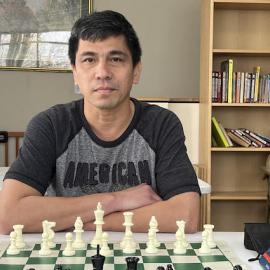 Coach Fred joined BayAreaChess in January 2023!
I started playing chess at age 5 when my dad taught me how to play. He was a hobby/casual player and just know how to move the pieces with a scant knowledge of tactics and chess theory. Soon enough after a month I have to find neighbors and friends as opposing players because he would lose to me most of the time.
My playing career in chess would be cut short though because I got hooked into playing basketball at age 8. My love of chess waned a little bit due to my newfound love and basketball demands most of my time and effort. I still played games in high school and college but basketball is my main sport/game. Came 2005 when our family immigrated here in the US and as they say first love never dies, chess soon found its way to me as did I to Caissa.
I am now currently trying to be active in tournament games as well as casual ones and play chess online when permitted by time and circumstance. I am currently an A player and hope to atleast get to expert or so rating in USCF before the year ends. I am grateful for Bay Area Chess for giving me the opportunity to teach the game I love and hope to play also in tournaments. More power to the organization and here's to more chess!