ChessKid.com Tournaments with Bay Area Chess
 
As a Member of the BAC Club on Chesskid: You will have access to ALL Free Chesskid Tournaments, so you may participate in as many of them as you want (no special Registration required). Tournaments are a great way to adjust/update Chesskid Rating and practice competitive gaming!  At the end of every online Term, a "Championship" will be posted, which will come with a unique prize currency called BACcoins for the winner! (BACcoins are used to exchange for prizes or tuition discounts).  You may also wish to join us for BAC's Exclusive Chesskid Prize Club for access to 8 bonus Tournaments per month (all awarding BACcoins!)

How to Find Free Chesskid Tournaments + Frequently-Asked-Support Questions: 
All Chesskid Tournaments will take place at www.ChessKid.com where your player has an account with us!

How do BAC Club Kids join the Tournaments?
          - Look for the Upcoming Tournaments link on the left side of their Home page. OR, they can also go directly to "Play vs Kid" and see the Tournaments there (clicking the medallion icon, see below). 
          - If you are not using a BAC membership, or have not been added to our Club, our tournaments will not be visible. 
          - Kids must play from a browser [the app often comes with connectivity issues].  Our recommended browsers are Chrome & Firefox.
          - Kids must join the event in the (update: now 30) minutes prior to the start time (requires pressing the orange JOIN button).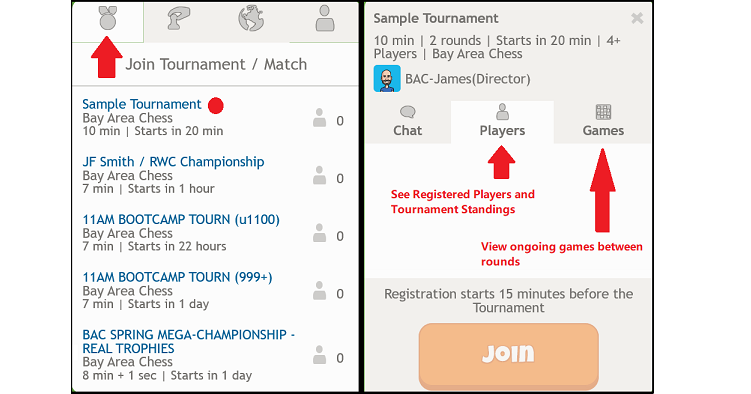 Here are some important tips for Tournaments:
          - Some Tournaments have rating requirements (like 1000+ or u1000). This will be using your Fast-Chess Rating on Chesskid and will not let you join an event out of your rating range.
          - If you are on the wrong tournament window, you might need to click on the upper corner grey 'x' to clear the window and reveal the tournament lobby beneath it.
          - The Controls are usually set for 3-4 Rounds, with each player receiving 7-10 minutes on the clock per game. Kids will have to wait for every game to finish before the next round can start (they should watch ongoing games, see pic).
          - It is not an elimination Tournament, they will play all rounds regardless how many they win/lose. If there are an ODD number of players, one student will have a "Bye" for each round. A Bye means you do not have an opponent for that round and will wait for the next one to start (byes count as a free win, but do not rank very high for tie-breaking scores).
          - Please read the Fair-Play Rules / Disclaimer on Chesskid.com, which threatens suspension over having multiple accounts or using the assistance of a chess engine in Tournaments.
More Technical help for Chesskid Tournaments!!
          - A browser cache clear helps keep your computer running smoothly & makes for a better playing experience!
Earn Prizes for even more exclusive Tournaments by Joining our PRIZE-CLUB!

Please Look into our Chess PRIZE-CLUB Tournament subscriptions on chesskid, where scheduled weekend events all award BAC-coins as prizes.  Learn more about this special Tournament access and how to spend BAC-Coins here: BAC PRIZE CLUBS
 Transforming Lives Through Chess for the Bay Area and Beyond!