BAC Drop-In Chess Club - Cupertino
5-7pm EVERY SUNDAY

Location:
Good Samaritan United Methodist Church
19624 Homestead Rd, Cupertino, CA 95014
(map)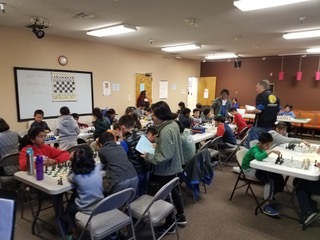 At-the-Door Payment: $40 per session (no advance registration necessary!)  
The Online Price includes a Transaction fee of $1.00 (Door Fee is 40)

By registering online, you are confirming/reserving a seat for the NEXT available Sunday Club session. You may register here or make a Cash/Check payment at the door (on-location, preferred, and cheaper).
The value of our Bundles are now even higher!  Save 20% with a multi-session purchase, below.
 
10 Sessions for the Price of 8!
   You may purchase a 2022-23 Club bundle, which will be tracked in the on-location binder. Purchasing 10 Cupertino sessions in advance for the price of 8.  Bundled classes have a full year to use (expires in 12 months) and DO NOT have to be used on consecutive weekends. Whenever you come in, skip the payment process and just sign in your punch-card style binder!  Bundle options are not available for Online purchase at this time. Bonus: When your bundle is up, the student receives a special award - which increases in value each bundle that is completed!
 
We welcome you to join us for our in-person Clubs. 
  - Currently only available in Palo Alto, Cupertino, or at the San Jose BAC Office Location. See them all in the CLUBS Tab.
  - Masks will not be required, though recommended. Please do not attend the club if the child is sick or showing symptoms.
  - There will not be a parent-room available, it will be by drop-off / pick-up. You may sign-in at the door and students will enter alone.
  - Club skill range is for Levels 1.5 - 4 or under 1150 USCF !
  - Old Club credits from 2018-2019, which could have been used toward any program or camp for 3 years, have expired (notices went out several times about an April 30, 2022 expiration).  
Format (general estimate):
  -  Arrival: 5:00-5:05 PM 
  -  ~0-25 mins: Students will engage in free-play with sanitized sets while we handle registration and collect all students, which also lets coaches do a general assessment of new students.
  -  ~40-50 mins:  We will then shift to a lesson or demonstration, based on the estimated skill levels present, which may include splitting the class into learning groups.  
  -  ~40-50 mins: Organized Paired-play and over-the-board Gaming, puzzles, practice tournaments or engage in an activity based on the lesson.
  -  Pick-up at 7:00, Please be prompt.