Hello Parents,
The following information pertains to anyone that is enrolled into one of the BAC Boot-Camps and has questions about the Friday Tournaments.
Reminder: There is not a Zoom session on Fridays for Levels 2-5, as Boot-Camp kids have Tournaments scheduled on that day. Level 1 Camps have a 5th session instead.
As a BAC Camper: you have access to ALL Friday BootCamp Tournaments (9am to 5pm), so you may participate in as many of them as you want!  However, only the time-slot that the camper was assigned to will come with a "Wizard-Point" for placing 1st, which can be redeemed for a physical prize later.
BootCamp Tournaments will take place at www.ChessKid.com. Boot-campers: You should already be a member of ChessKid (Gold account access) and in the BAC Club (you will see us in the CLUBS section of ChessKid). If you are NOT, please let us know immediately (check spam folder for this information).

How do BAC Club Kids join the Friday Tournaments?
          - When Boot-Campers would like to join the Friday tournament, they need to look for the Upcoming Tournaments link on the left side of their Home page. OR, they can also go directly to "Play vs Kid" and see the Tournaments there (clicking the medallion icon, see below). If you are not using a BAC membership, or have not been added to our Club, our tournaments will not be visible. 
          - Kids must play from a browser [not the app].  Our recommended browsers are Chrome & Firefox.
          - Kids must register for the event in the 15 minutes prior to the start time (requires pressing the orange JOIN button).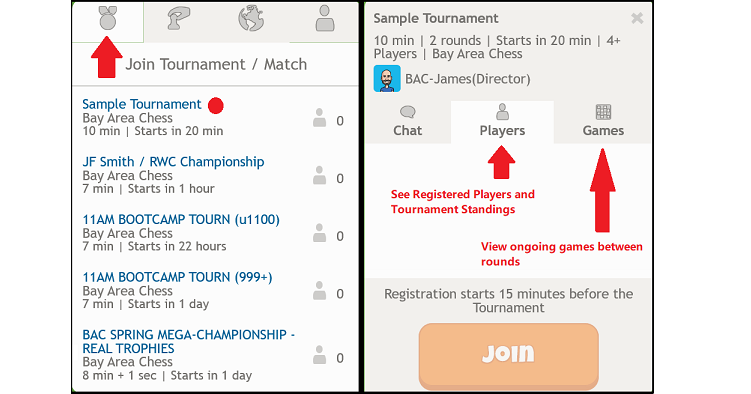 Here are some important tips for Boot-Camp Tournaments:
          - Each BootCamp Tournament is scheduled to start 5 minutes after our Normal Zoom session. For example, the 10am Boot Camp has a Tournament start time of 10:05am, and registration will open at 9:50am. If you miss it, there will be a second chance to join between games 1 and 2 (ALL Times use Pacific Standard Time), but you should be able to join a later event as well.
          - Some Tournaments have rating requirements (like 1000+ or u1000). This will be using your Fast-Chess Rating on Chesskid and will not let you join an event out of your rating range. They are carefully designed for each camp level for an optimal event experience.
          - If you are on the wrong tournament, you might need to click on the upper corner grey 'x' to clear the window and reveal the tournament lobby beneath it.
          - The Controls are set for 4 Rounds, with each player receiving 7-8 minutes on the clock per game. Kids will have to wait for every game to finish before the next round can start (they should watch ongoing games, see pic).
          - It is not an elimination Tournament, they will play all 4 rounds regardless how many they win/lose. If there are an ODD number of players, one student will have a "Bye" for each round. A Bye means you do not have an opponent for that round and will wait for the next one to start (byes count as a free win, but do not rank very high for tie-breaking scores).
          - Once a Kid has joined a tournament, please do not leave the screen, it may withdraw you from the competition! After a game, you may click on Back to Tournament located center-screen or under the game results to go back to the tournament data screen. You do not need to click on the left-side main menu for any reason during the event. 
          - Please read the Fair-Play Rules / Disclaimer on Chesskid.com, which threatens suspension over having multiple accounts or using the assistance of a chess engine in Tournaments.
          - A browser cache clear helps keep your computer running smoothly & makes for a better playing experience!
Transforming Lives Through Chess for the Bay Area and Beyond!