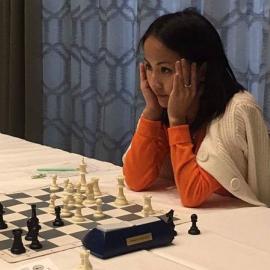 Hello! My name is Munkhchuluun Tsegmed, and I am a Women's FIDE Master (WFM) and FIDE trainer from Mongolia. My first name is pronounced Moonk-CHU-loon in Mongolian, but you can just call me Moogii!
Growing up in the capital city of Ulaanbaatar, I first learned how to play chess when I was 6 years old. My parents, who have no special chess background, taught us 5 kids. I was motivated partly to spend more time with my older brother, Batchuluun. Today, he is a 2500+ FIDE-rated Grandmaster and 4-time Mongolian national champion who plays professionally in tournaments all around the world. Mongolia only has a population of 3 million, but we have pretty good chess players: 4 GMs, 4 WGMs, 11 IMs, 7 WIMs, and many other world-ranked players.
So the competition wasn't easy. My first major tournament success was when I was 7 years old, and won the Bronze medal at the Mongolian Girls Championship. After that, I got more serious, and began studying chess two hours a day, with the help of my brother and later my high school chess coach.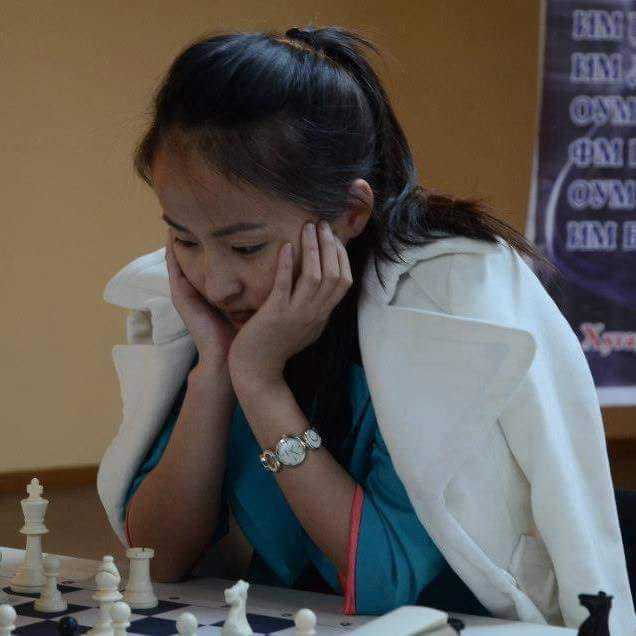 I won more Mongolian national scholastic tournaments, and also started competing internationally. I became a very aggressive attacking player, though I've mellowed and become more of a positional player lately. My favorite defenses are the French Defense and different variations of the Queen's Gambit Declined. I usually play 1. d4 when I am white.
One of the highlights of my chess career was competing at the Women's Chess Olympiads in Dresden, Germany in 2008. I had a very strong tournament playing 4th board and actually earned my WFM title there. My most memorable game was my final round, in which I drew a Women's International Master from Bulgaria after 80 moves. That helped the Mongolian team win first place in our division.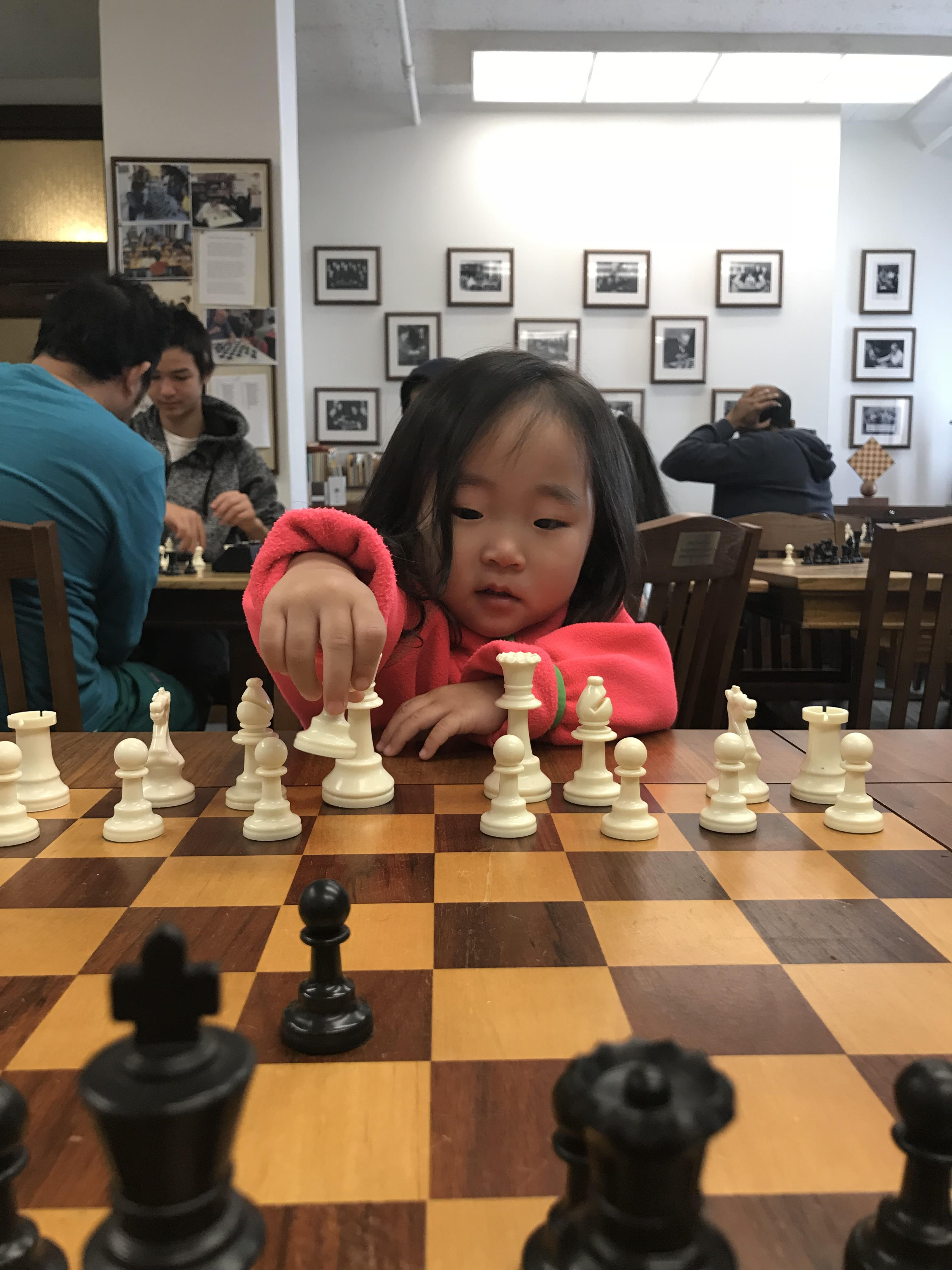 Since then, I have continued to compete at chess, though my life has been very busy. I earned a Business degree from the Mongolian State University of Agriculture and worked at a bank after graduation for several years. I also taught chess to kids, and have been busy raising my daughter (and teaching her how to play!).
My husband, daughter and I moved to the United States in 2016. I have been teaching at BayAreaChess since fall 2017. My after-school classes include Franklin Elementary and McKinley Elementary in Burlingame, West Portal Elementary in San Francisco, and Redwood Elementary in Oakland.
Teaching chess is the best job in the world. I love working with children all of chess levels and ages. It is amazing to watch them grow curious and hungry to compete and improve.
I truly believe that chess helps kids develop important life skills such as critical thinking and how to be a good sport while winning AND losing. For kids who really desire to improve, I recommend that you spend a few hours a week at home practicing - playing online, doing puzzles, studying tactics, and more.
I think my passion for teaching chess has rubbed off on my daughter, who has already started imitating me. There she is teaching her Teddy Bear the opening strategies of chess again. He stubbornly refuses to listen and keeps playing 1. h4 :)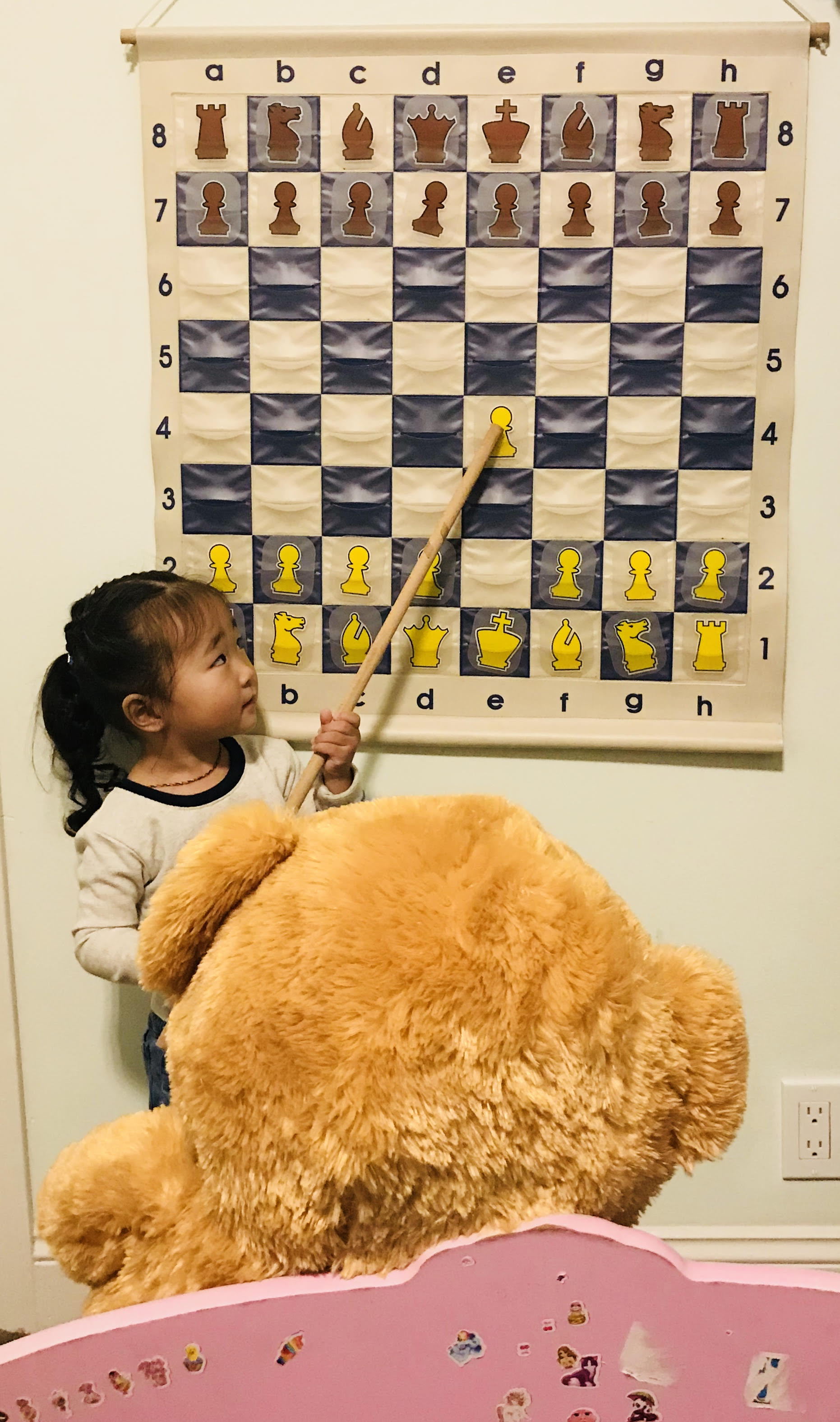 I look forward to seeing you in class!