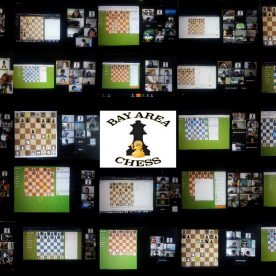 BAC  A-Team (Online) 
 @ 11:00-1:00pm on Saturdays (pst)
For Rated 1500+
Our A-TEAM is open to Chess players of ALL ages (1500+) !!
BAC IS PROUD TO WELCOME Bay Area Local GM STEVEN ZIERK  as BAC's A-TEAM Head Coach
2022 MAY ONLINE Team Classes Schedule:
5/7, 5/14 and 5/21 (no class on 5/28) 
Pleased READ the message from A-Team Coach:
"The A-Team is for serious tournament players (USCF 1500+ ) that are looking to improve their game. The group classes focus on universal chess skills, such as calculation, decision making, and positional judgment. Students are expected to work on chess regularly while attending classes, in the form of solving tactics, reading books, or playing online. Students are also expected to remain active tournament players while being members of the A-team, with the goal of 1 tournament per month."
 
Note: Team registrations are on a month by month basis. Occasional drop-in classes may be offered.
No make up classes are offered.
About BAC A-Team:

BayAreaChess' teams began in August 2015 by inviting some of the Bay Area's most dedicated scholastic players with the mission to provide them with a format of training where they can elevate their chess to the next level. We do this by offering strong training with title player coaches combined with a team oriented method of training and support that will give these young players a valuable experience that they can apply to both their chess and to their personal lives.

This is a team for players with 1500+ rating.
Do you think you'd be a good fit to this team, and would like us to consider you?

Please, email us enrich@bayareachess.com