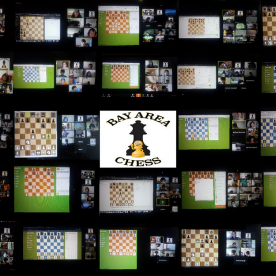 BAC  First-Team (Online) 
 @ 3:00-5:00pm on Saturdays (pst)
For under 1000 USCF Rating
Our First-Team is open to Scholastic Chess players only (no adults),
Under 1000 USCF rating (or rated under 1400 on ChessKid.com, Chess.com or Lichess.org)
2022 MAY ONLINE Team Classes Schedule:
5/7, 5/14 and 5/21 (no class on 5/28) 
BAC ONLINE  First Team is 3pm-5pm Pacific Time Zone on scheduled Saturdays!
Note: Team registrations are on a month by month basis. Occasional drop-in classes may be offered
No prorates, no make up classes. Students are expected to be able to checkmate on their own and have some beginner experience already (no level 1's admitted).
About BAC First Team:

BayAreaChess' teams started in August 2015 by inviting some of the Bay Area's most dedicated scholastic players with the mission to provide them with a format of training where they can elevate their chess to the next level. We do this by offering strong training with title player coaches combined with a team oriented method of training and support that will give these young players a valuable experience that they can apply to both their chess and to their personal lives.

This is a team for players rated 400-1000 USCF (or 850-1399 on Chesskid.com, or level 2.5 - 4). If lower than this, please look into Single-Session Clubs or term classes. Do you think you'd be a good fit for this team, and would like to join? Please register for this month :)