Please note: Absolutely NO NUTS and NO FOOD SHARING Policy in all BAC Programs

Ages 5+
 
Address of San Jose Chess and Strategy Game Combo Club:
1510 Oakland Rd. Suite 120, San Jose, 95112  
(Click for map)
 
CHESS

If your child is anywhere between an absolute beginner and an intermediate player: This is the club for him or her!

Join Coach Matt and Coach Jason for a 2 hour club on Saturdays morning to learn the moves, practice games, solve problems, puzzles and tactics, and most importantly have FUN!
 
Some pictures from the first club at the new location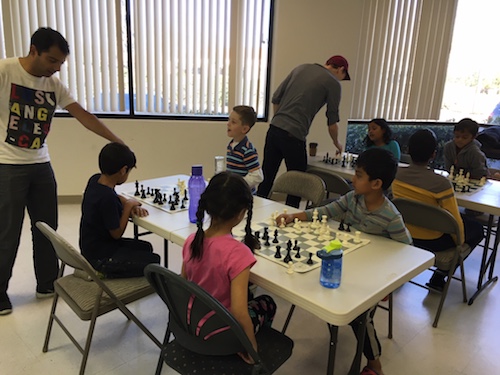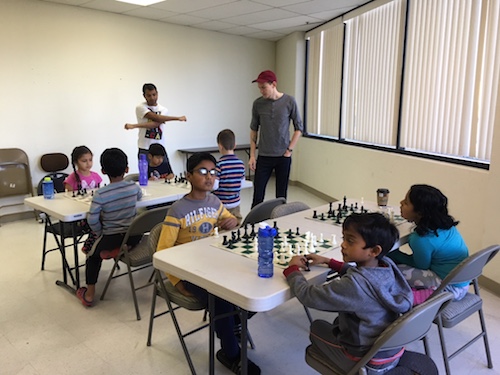 STRATEGY GAME
Join Coach Jason and Coach Matt for Strategy-Games Club in San Jose!  We feature a different game or concept every week, using games from ancient History and from different cultures from around the world, all the way to present day or homemade games.  Our goal is to discuss strategies, find ways to analyze the math behind the positions and master the art of understanding any board, any game, and the probabilities and the logic behind every decision.  We spend a lot of time designing our own games as well, or doing very specific puzzles or station-based board games.  Every week is different and is always full of learning and fun!   The minimum suggested age for Strategy-Games is 7.
What is "Strategy-Games", exactly?
BAC's Strategy-Games is an innovative and fun way to teach children the logic and strategy behind a variety of games in a way that incorporates many STEM concepts while having fun learning games both new and old!  We use a variety of games (some with deep historical impact from cultures around the world and some home-brew games available only at BAC) to introduce the student to concepts in probability, game theory, pattern recognition, deductive reasoning, cooperation and creative thinking that leads to optimal decision-making in not only games of all types, but in life itself!   We enjoy analyzing rules, dissecting the math behind certain game mechanics, solving (and creating) puzzles, discussing the history and impact of certain games or theories.. all while practicing sportsmanship, resource management, risk assessment, and cognitive 'advantage-based' reasoning.  We also favor creative-thinking and design our own abstract or thematic board games, either from provided templates or purely from scratch! 
Coaches James Bethany and Jason Uerkvitz lead the ever-growing curriculum with a team of qualified and enthusiastic coaches and volunteers, bringing their vast experience in both teaching and Strategy Games to create a unique and fun filled experience in learning and gaming!  No Strategy Games experience is ever the same, as the coaches incorporate and provide a variety of different concepts and the selection varies tremendously!
We also have a special series of unique trophies designed specifically for the Strategy-Games branch of Enrichment, with it's own point system (stars), achievement badges and an emblem/logo designed by the regulars of the popular weekend clubs!
 
When is it offered?!
CLUBS: Strategy Games is available every Saturday in 2 locations.  We are in San Jose from 9am - noon as a combo club (Chess+Strategy-Games) and as a stand-alone club in Palo Alto from 1pm - 3pm.  As with All BAC Clubs, we use drop-in scheduling and there is no registration necessary.
CAMPS: We also offer Strategy-Games as a Fall, Winter and Summer Camp (often in San Jose and in Palo Alto)!  Much like Chess, it is available in half day blocks (9am-1pm or 1pm-5pm) or full day options (9 to 5!).  Camp registration Page Here
What is the age range?
The targeted age range is 6 to 14.  Younger or older kids are certainly welcome, particularly in camps, but with a disclaimer that the material is best suited for kids within the suggested range.  We also must emphasize that the physical materials in Strategy-Games can be fragile, therefore destructive acts or tendencies cannot be tolerated.
If you have any questions at all, please let us know at enrich@bayareachess.comHappy Gaming!

BayAreaChess regularly organizes and holds Strategy-Game Camps over the Winter and Summer breaks.  
General information   --  Offered Dates & Locations
11 Club Registrations
$350