2023 FALL Chess Club @ Weibel Elementary School!
'23 FALL TERM:  9/8-12/8
OFF: 11/24
FRIDAYS, 3:00 - 4:30PM   (90 minute classes)
Doors open at 2:45pm!
Weibel Rated Quads (double Class Tournament) on November 17th! See below.
ALL LEVELS WELCOME!
90+ minute courses, once per week.
We welcome the Return of Rated Fall Quad Tournaments @ Weibel this season! 

Bay Area Chess: The largest non-profit Chess provider west of Texas!  
BAC combines fun and learning while promoting a team spirit where everyone helps each other succeed and improve. Our chess program will cover the very basics for students new to the game while also challenging more experienced players with more advanced concepts. Students will have the opportunity to learn the moves of the pieces, opening strategy, tactics, checkmates and endgame play. Students will also learn valuable life skills through chess, such as winning and losing with grace, sportsmanship, planning and team spirit. Our mission is to transform and enrich the lives of students through chess.  BAC is also the official organizer of the California State Championship and will be sending a Weibel Team to States every year going forward!
Spring of 2023 was a fantastic season for Weibel players!

  WEIBEL 2023 State Championship Titles:  
K-3 Rookie: 1st Place State Champion Club!!
K-3 Rookie: 3rd Place School
  K-3 Rookie: 1st Place Individual State Champion!!
  K-3 Beginner: 3rd Place Club
  K-3 Beginner: 2nd Place School
  K-3 JV: 1st Place State Champion Club!!
  K-3 JV: 2nd Place School
  K-5 Rookie: 2nd Place Club
  K-5 Beginner: 1st Place State Champion Club!!
K-5 Beginner: 2nd Place School
  K-5 Beginner:   4th Place Individual Placement
  K-5 JV: 1st Place State Champion Club!!
  K-5 JV: 1st Place State Champion School!
K-5 JV: 2nd and 4th Place Individual Placement
December 2022 Grade-Level Championship Titles!:
Grade 1:  1st Place School!
Grade 2:  1st Place Club!
Grade 5:  2nd Place Club and 2nd Place School
Grades K-5: 1st AND 3rd Place Individual Titles +1st Place School AND Club!!  
Register:  ALL Levels will be registering through this page. We have records on returning students to continue where they left off and will know immediately which players are joining us for the first time. If you have a player NEW to our program, but NOT New to Chess, please just mention it in notes. Assessments will be done on the first hour of the first day of class.
Class Format:  This 90+ minute Course will be roughly 50% demonstration/instruction and 50% live pairings, puzzle, analysis time. We aim to keep kids engaged and learning for the whole duration while also having fun doing it!  More FAQ here.  We will be assessing players on the first day. This allows for us to get to know the students, go over the rules and make sure all players are properly grouped by monitoring open-play before moving forward with deeper instruction. We have multiple rooms for multiple skill levels.
Grade-Level:  Our Programs are generally for Grades 1-8. BAC accepts Kindergartners if they are already familiar with the game (can complete a game on their own) or are a sibling of an older enrolled student.
Coaches and Curriculum:  Meet them all here: Coaches | Bay Area Chess.  As enrollment grows, we will confirm/staff coaches from prior seasons first!  Our esteemed coaches will evaluate the final roster and develop a curriculum that best suits our players based on their needs, experience levels and goals. 
Discount:  10% Sibling discounts are accounted for automatically by the system (so long as purchases are made in one single transaction).

Pricing Transparency: Prices have not increased; they are the same as Spring 2023. As doors open at 2:45p, we spend up to 1.75 hours with students weekly, for an hourly class cost under $22 (our pre-pandemic class rate).
Ratio:  Coach Ratios will generally be 12:1 or better in any given classroom.  Some lessons/circumstances allow for higher.
Weibel FALL Quads 2023 - Rated Tournament
Friday, November 17 (Double-Class)
Bay Area Chess will be hosting a Rated Tournament this season on Friday November 17th, in place of the regular Chess class! You may expect the tournament to go up to ~5:45pm, so the class will span from 3:00 - 5:45 on that day!
As a registered Weibel Student - there will NOT be a charge - it is part of your term registration. 
In-Person Fremont Club:  Starts 9/15
For supplemental learning, BAC hosts a Drop-in Chess Club at this SAME location immediately after Weibel Chess.  This 90-minute session is open to all players or any school, 4:30-6pm. No registration needed (pay at the door for each session you attend), all levels welcome!  Come one week and not the next, it's drop-in!  WEIBEL has the unique option to use this Club as a make-up session if they missed a prior after-school class, which is the only school we provide this option for!! Learn more about the drop-in Fremont Chess Club after Weibel : FRIDAY IN-PERSON CHESS CLUB @ WEIBEL SCHOOL IN FREMONT | Bay Area Chess
Questions?  We can be reached at Enrich@bayareachess.com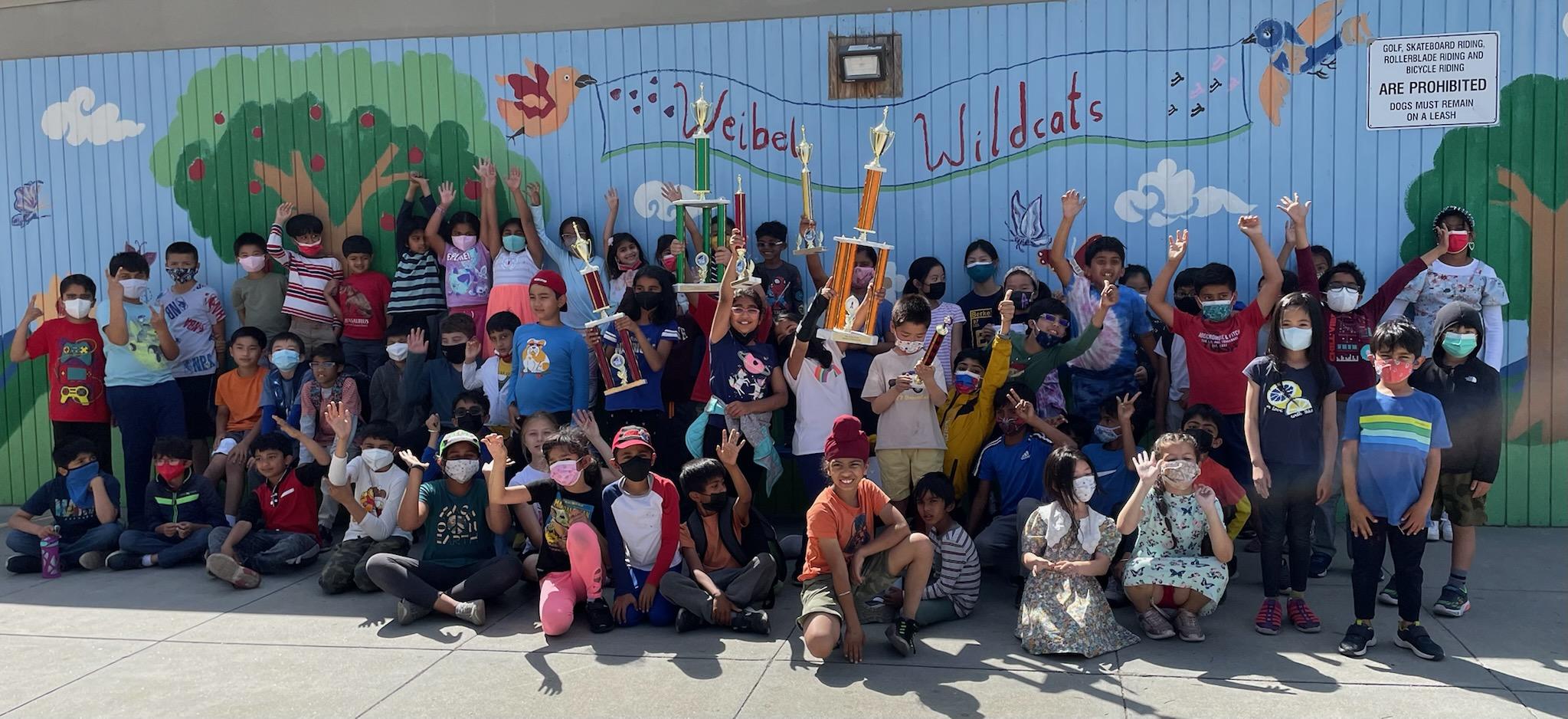 More Info: 
-  https://enrichment.bayareachess.com is the BAC Enrichment Site : 
For all Camps / After School Classes / Clubs / Chesskid.com / Practice Events / Online Teams
Support Email: enrich@bayareachess.com
- https://www.bayareachess.com  is the BAC Tournament Site : 
All USCF Events use the Tournament website (uses a different login than the Enrichment site)
Support Email: events@bayareachess.com

 
Stay Safe! Have Fun! Learn Chess!
Grades
Kindergarten
First Grade
Second Grade
Third Grade
Fourth Grade
Fifth Grade
Sixth Grade
Room #
Rooms 32, 33 + School map