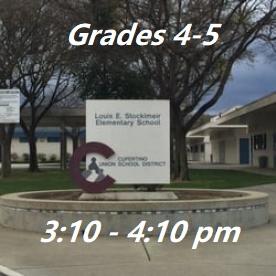 Grades 4 and 5 ONLY!
Please see below the  important information about this class:
Introducing the 30 minute block format at Socklmeir:
2:40-3:10 (Grades K-3 receive their lessons)
3:10-3:40 (ALL grades play their games, combined) . At 3:40pm, the students in the first class (Grades K-3) will be escorted out of room 33 and supervised right outside for pickup while the second class is in session. Please do not be late for pickup!
3:40-4:10 (Grades 4-5 receive their lessons)
Grades
First Grade
Second Grade
Third Grade
Fourth Grade
Fifth Grade